Teri Monroe
Career Transition Specialist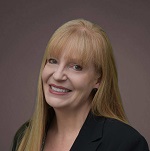 Teri Monroe joined the Wiederhold team as a career transition specialist in 2019. As a certified professional coach and career development specialist she enjoys assisting people in developing strategies for navigating challenging situations.
Before working with Wiederhold & Associates, she spent seven years as an independent coach and has partnered with well over 100 people seeking personal development. In addition to her work with Wiederhold, she continues to support individuals in various aspects of public speaking, and language acquisition.
As a native born American, she spent the greater portion of her young life in Germany where she eventually met and married her best friend Kennedy. Several years later the pair then spent a total of two years in West Africa participating in a volunteer teaching program. After moving to Houston Texas with her husband in 2005, Teri studied American Sign Language then went on to become certified to teach English as a foreign language and to pursue a B.A. in Psychology. Her passion for supporting the community is evident in that she has engaged in more than 8000 hours of community field work and regularly participates in global educational campaigns aimed at empowering families.  
In 2019 the couple decided to return to Germany to be closer to family. In her free time, both she and her husband love to travel and go on adventures that take them off the beaten path. Through her international involvement she has developed a heightened sense of emotional intelligence, which significantly impacts her coaching style. Having had the privilege of collaborating with diverse multicultural teams trained in the field of coaching, she brings a unique skillset that allows her to connect and build relationships with people at all levels.